Blog Posts, News Articles & Interviews
To read the Three Rivers Hospital blog, please click HERE.
Three Rivers Health Link
This is our community newsletter, available in English and Spanish. We are in the process of reformatting our newsletter for a higher quality publication. Stay tuned; our next issue is planned for June 2023!
Click the images below to open a PDF of our most recent newsletter.
August 2022
English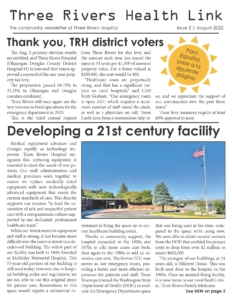 Spanish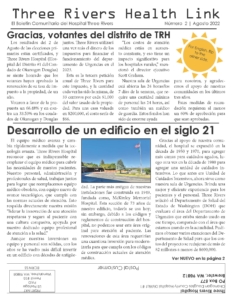 FACEBOOK
Three Rivers Hospital
Three Rivers Hospital is a public, not-for-profit, critical access hospital in Brewster, WA. Our mis
Jennifer Best
Business Development Coordinator
Jennifer Best joined Three Rivers Hospital in June 2014 as the Administrative Assistant. She filled that role for nearly five years before being promoted to Business Development Coordinator in March 2019. Jennifer has a Bachelor of Arts degree in Communication Studies, with a concentration in Print Journalism, from the State University of New York at Cortland. She worked for eight years as a journalist in North Central Washington before joining the Three Rivers Hospital team.
Jennifer works with the administration, providers, and staff at Three Rivers Hospital and Three Rivers Family Medicine to help educate hospital district residents about services, and she coordinates with other local healthcare and civic entities to further Three Rivers' vision of being a trusted community partner.
Jennifer is the spokesperson for Three Rivers Hospital. She also serves as the organization's Public Records Officer.
You can contact Jennifer at 509-645-3347, or at media@trhospital.net.
Three Rivers Hospital