Compiled by Jeremy Vandelac, Ancillary Manager
Three Rivers Hospital
Chelan and Grant counties have recently found bats infected with rabies, and Spokane County also found a rabid bat.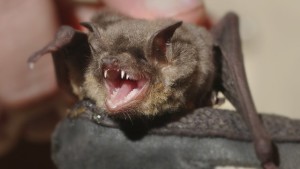 One of the bats in Grant County bit a person removing the cover off of a boat; it was the first known human case in Washington since 1997.  Within the past 25 years, four domestic animals in Washington have been diagnosed with rabies, and by law, all cats, dogs, and ferrets are required to be vaccinated against rabies (WAC 246-100-197).  So with that said, the rate is very low, with less than 1% of bats in the wild having rabies.  Still, it is extremely important to never touch a bat.  We'd like all of our hospital district residents and visitors to be aware of what to do if they encounter a bat. The below information has been compiled from Grant and Chelan-Douglas County Health District emails and informational materials.
What is considered a bat encounter?
A bite, scratch, or saliva in your eyes, nose, mouth or fresh wound.
Finding a bat in the same room of a person who might be unaware that a bite or direct contact occurred (i.e.: a person sleeping or an unattended child).
What should I do if I have an encounter with a bat?
If you have been bitten, immediately wash the bite site with plenty of soap and lots of running warm water for a minimum of 10 minutes, then seek immediate medical attention.
Report the encounter to Chelan-Douglas Health District, Monday – Thursday (509) 886-6400. After hours or weekends, please call (509) 886-6499.  For Okanogan County, call (509) 422-7140 or 911 after hours.
If possible, catch the bat safely, avoiding direct contact. Use heavy leather gloves, a net, and tongs. Put it in a can or a bucket and tightly cover it with a lid. Do not damage the head of the bat because the brain is needed for testing.
Bats should be captured only if there has been direct contact with a person or pet, or if the bat was found in the room of someone who might have been bitten. Once these bats are captured, they should be tested for rabies infection. Do not release a live bat or throw out a dead bat that has bitten or scratched, or has had direct contact with a person, unless instructed to do so by public health.
Keep bats out of your house!  Bats must not be allowed into your home. It's best to contact animal control or a wildlife conservation agency for assistance with "bat-proofing" your home.  If you choose to "bat-proof" your house yourself, here are some suggestions:
Carefully examine your home for holes that might allow bats entry into your living quarters.
Use window screens, chimney caps, and draft-guards beneath doors to attics, fill electrical and plumbing holes with stainless steel wool or caulking, and ensure that all doors to the outside close tightly.
Prevent bats from roosting in attics or buildings by covering outside entry points.
More information on "bat-proofing" can he found here: http://www.batcon.org.
More information on bat exposure, what to do if you find a bat in your home or cabin, what to do if you are bitten by a bat, and how to avoid exposure to rabies can be found at:
Additional information about rabies:
/wp-content/uploads/2016/09/TRH-logo-09.2016-300x94.jpg
0
0
Anita
/wp-content/uploads/2016/09/TRH-logo-09.2016-300x94.jpg
Anita
2016-08-18 22:40:33
2016-08-18 22:59:36
Bats & Rabies: Taking Precautions at Home