Surgical Services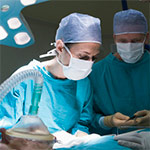 Surgical procedures vary from scheduled and outpatient surgeries to emergent surgeries such as appendectomies. Major trauma patients are surgically stabilized here, with the exception of cardiothoracic injuries.
Our surgical specialties include orthopedics, gynecology, and general surgery (for abdominal and gastrointestinal conditions, among others). For more information about our surgeons, please visit us at brewsterclinic.org/providers/.
Need to schedule your surgery?
Please contact our Centralized Scheduler.
Phone: 509.645.3306
Hours: 9 a.m. – 4 p.m., Monday – Thursday
Questions about your upcoming surgery?
Please contact:
Your Clinic or Provider
Surgery Reminder List
No food or drink during the eight hours before your procedure.
Bring a current list of your medications.
Bring a list of your allergies.
Bring something to occupy your time while you wait.
Bring or arrange to have somebody to drive you home after your procedure.
COVID-19 Notice: To resume non-emergent surgeries in accordance with Governor Inslee's proclamation, Three Rivers Hospital is conducting pre-screening of all patients prior to their scheduled procedure dates, per current recommendations. We ask that all patients please comply with this guideline for their safety as well as the safety of our staff and surgeons. Thank you!
During a surgical procedure, people in the operating room may include the surgeon, physician assistant, anesthetist or CRNA, one or two surgery nurses, a recovery nurse, and one or two scrub technicians.