Ready to log in to your Healthcare record?

PATIENT PORTAL ACCESS
If you would like to register to access a summary of your Three Rivers Hospital electronic healthcare record (EHR), please print out the PATIENT PORTAL Registration form and present the completed form in-person with your picture ID.
PROXY AUTHORIZATION ACCESS
If you would like to authorize other people to be able to access your personal medical record, or the health care data of a minor child, you and the person you are giving permission to access your record must complete a Patient Portal PROXY Authorization form. If you are the parent or legal guardian of an adult or minor child, it is necessary for you to complete the Proxy Authorization form.
REGISTRATION
If you provided an email address when you registered at the Admission desk or were admitted to the hospital, when you have been discharged from the hospital you can expect an email directly from Evident, our Electronic Health Record software system, from the email address donotreply@trhospital.net
Note: The initial email from "donotreply" after your hospital visit will provide instructions how you can set-up your personal Username & Password to the Patient Portal.
---
To learn more about the Patient Portal, watch this educational video: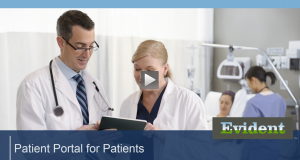 ---
Frequently

Asked Questions
What is a Patient Portal?
The Patient Portal is an online tool that goes a step beyond simply displaying information — It can help YOU manage your health care easily & securely.
Where does my health information in the Portal come from?
All the information you see when you access the Patient Portal comes directly from your Three Rivers Hospital electronic medical record. The Patient Portal provides you with easily accessible & up-to-date medical information in a summarized format.
How do I log in to the Portal?
If you have:
been

an in-patient who received Nursing care after July 1, 2014,

provided

your email address before you were discharged,

completed

a Patient Portal REGISTRATION form, and

already

set-up for access profile,
you are welcome to click on the Patient Portal icon with the gold border on this webpage.
Is my information safe?
Yes, your information can be accessed online only by you and specific people you have given written permission, such as family members or a Healthcare Proxy person. In addition, a "time out" feature helps protect your health information if you accidently leave the Portal page open.
Can my family access my Patient Portal?
You can give family members, such as parents or a Healthcare Proxy person, authorization to access to your electronic health record (EHR). Giving authorization for another person in addition to you to have access to your personal healthcare information requires written consent from you and the person you choose to authorize. Print a Patient Portal PROXY Authorization form to have completed and ready when you visit, or call 509.689.2517 to ask for a copy of the form to be mailed to you.