Transitional Care Program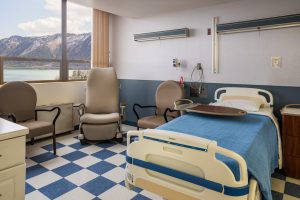 Sometimes, it's necessary to receive skilled nursing care after a hospitalization from an injury, surgery or acute illness. Our transitional care (also known as swing bed) program provides this care and rehabilitation services while being close to home and having the support of your loved ones. We help you restore your health and reduce your chances of being readmitted to the hospital, so you can get back to living your life.
Who qualifies for the transitional care program? 
In order for Medicare to cover your transitional care (swing bed) stay, specific qualifying medical criteria must be met.
Following a hospital stay of at least three days, an inpatient must require either skilled nursing or skilled therapy services.
Common diagnoses treated in this program include extended IV treatment needs, orthopedic surgeries (hip or knee replacements), some fractures, post-surgical procedures, neurological disorders (stroke), wound care, and generalized weakness due to diabetes and other chronic conditions. We also provide end-of-life care when needed.
Transitional care serves as an alternative to short-term nursing home care.
What does Medicare cover?
Medicare will cover up to twenty (20) days in full and up to eighty (80) days beyond that with a co-payment, as long as Medicare criteria are met. Medicare supplement will usually pay the deductible as long as Medicare continues coverage. Other medical insurance may cover your stay, or a patient may pay with private funds.
Click here for more information regarding Medicare coverage for transitional care services.
You have a choice!
If you or your loved one is preparing to be discharged from another facility out of the area, we encourage you to talk with your discharge planner and request to be sent to Three Rivers Hospital for the transitional care program to be closer to home for your continued care.
"It's a wonderful hospital and I would recommend it to anybody."
– Pauline Glessner, Former Swing Bed Patient
To hear more about Pauline's story, visit us on YouTube: https://youtu.be/4CwOawDAzmA
Contact Us
Teresa Stout, Discharge Planner
Services
Semi-private room (Depending on patient volumes, you may have a private room)
Therapeutic meals overseen by a Registered Dietitian, including vegetarian options
Round-the-clock skilled nursing care with personalized attention
Physical and occupational therapy*
Medical social services
Medications
Medical supplies and other equipment
Dietary counseling
Daily activities such as puzzles, board games, music, movies, video or in-person visits with loved ones, fresh air in our Courtyard during good weather, etc.
*Medicare covers these services if they're needed to meet your health goal.