Information about COVID-19
Novel Coronavirus
Frequently Asked Questions
Q: What is COVID-19 or the coronavirus?
A: COVID-19 is the name given to an infection that results from a coronavirus which seems to have originated in 2019. Due to international travel and the highly contagious nature of this virus, it spread to other areas of the world fairly quickly, including the United States. It has several possible symptoms (see the FAQ below for more information).
Three Rivers Hospital works closely with Okanogan County Public Health (OCPH) and the state Department of Health (WA DOH), and we follow recommendations for patient care and infection prevention set forth by the U.S. Centers for Disease Control (CDC).
Q: What are the symptoms of COVID-19?
A: The CDC has updated its list of common COVID-19 symptoms, which is not exhaustive:
Fever or chills
Cough
Shortness of breath or difficulty breathing
Fatigue
Muscle or body aches
Headache
New loss of taste or smell
Sore throat
Congestion or runny nose
Nausea or vomiting
Diarrhea
Symptoms typically appear between 2-14 days after exposure. Those with compromised immune systems or existing health conditions may experience more severe symptoms or complications, and they are urged to take extra precautions.
Some people may be unknowingly infected with the virus and do not have symptoms; however, they can still pass the virus to others.
Q: How can I protect myself and my family from this virus?
A: The U.S. Centers for Disease Control has a wealth of resources about how to stay healthy at home, in the workplace, and in the community; see the COVID-19 Resource link list to the right on this webpage.
Top recommendations to protect yourself include wearing a mask in public spaces where you cannot maintain at least 6 feet of distance from others, and getting the COVID-19 vaccine. For a list of vaccine locations in Okanogan County, visit the Public Health COVID-19 website by clicking HERE.
The best way to curb the spread of germs is to wash your hands regularly with warm water and soap, or use a 60-95% alcohol-based hand sanitizer. Wash your hands thoroughly for at least 20 seconds. Hand-washing is especially important before eating, after using the bathroom, and after coughing, sneezing, or blowing your nose. Other precautions include:
Stay away from those who are sick
Don't touch your eyes, nose, and mouth, especially while out in public
Stay home if you are sick with COVID-19 symptoms
Cough/sneeze into the crook of your elbow to reduce the spread of germs around you
People at higher risk for serious complications from the COVID-19 virus include:
People 60 years old and older
People with underlying health conditions including heart disease, lung disease, or diabetes
People who have weakened immune systems
People who are pregnant
Q: What should I do if I have COVID-19 symptoms or have been exposed? (Updated)
A: First, if you have symptoms of COVID-19, please stay home and limit your contact with other people as much as possible.
Due to a lower amount of staffing on weekends, non-emergent tests are done between 8 a.m. and 4 p.m., Monday through Friday. If you do not have symptoms or if they are very mild, please hold off on coming to the hospital on weekends for a test.
When you arrive for your COVID-19 test at the location directed, please wait in your car.
Current Process at Three Rivers:
The current estimated turnaround time for the send-out PCR tests is within 24 hours, because our Laboratory is now processing all tests in-house.
If you are experiencing symptoms, please call our clinic at (509) 689-3749. Our staff will do some preliminary intake paperwork with you over the phone and provide directions to our private testing area at the hospital.
If you do not have symptoms but require a test, you can check in during the above-mentioned business hours at our main entrance at 507 Hospital Way. We do offer 24/7 availability for testing for ER patients or inpatients.
To ensure more accurate results, we may ask you to wait 2-3 days to be tested if you have symptoms, or 5 days if you've been exposed but have no symptoms. Testing too early can lead to false negatives.
New isolation guidelines from the U.S. Centers for Disease Control (full press release can be found by clicking HERE).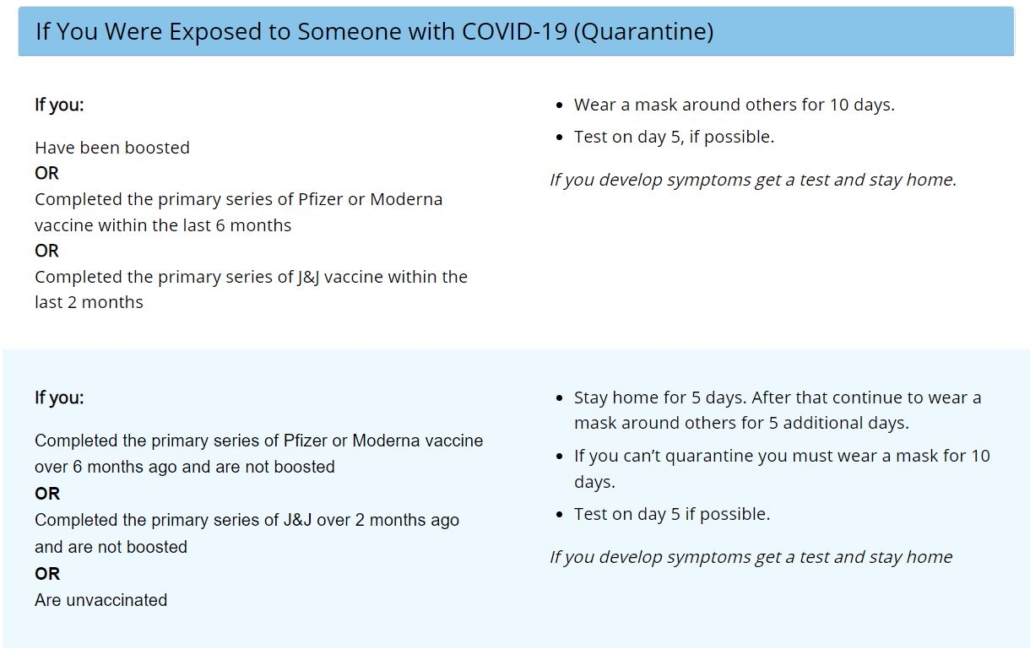 If you have any of these emergency warning signs* for COVID-19 get medical attention immediately:
Trouble breathing
Persistent pain or pressure in the chest
New confusion
Blue or gray tint to skin, lips, or nail beds (depending on your skin color)
Inability to wake up or stay awake
*Please consult your medical provider for any other symptoms that are severe or concerning to you.
Call 911 if you have a medical emergency. Notify the dispatch operator that you have or think you might have COVID-19. If possible, put on a mask before medical help arrives.
Q: How do I get a test for travel, an event, or returning to work/school? (NEW)
A: First, be sure to check ahead of time with the airline, event venue, and/or your employer or school to find out which test (PCR or antigen) they require. 
Three Rivers provides send-out PCR tests and antigen tests. The PCR test may be more accurate, and results come back between 48-72 hours. Antigen tests produce results in about four hours.
If you are not symptomatic and have not been exposed to COVID-19:
Come to the hospital's main entrance between 8 a.m. and 4 p.m. Monday through Friday.
Wear a mask and be prepared to be screened for COVID-19 symptoms.
At the Registration desk, request a travel/event/return to work or school COVID-19 test.
Because of limited staffing, we do not provide testing on evenings and weekends except in cases of emergency. Thank you for your understanding!
Q: If I have/had COVID-19, how long do I need to self-quarantine?
The following guidelines for quarantine and isolation are from the U.S. Centers for Disease Control.
(Video) The Difference Between Quarantine and Isolation
Quarantine
Quarantine if you have been in close contact (within 6 feet of someone for a cumulative total of 15 minutes or more over a 24-hour period) with someone who has COVID-19, unless you have been fully vaccinated. People who are fully vaccinated do not need to quarantine after contact with someone who had COVID-19 unless they have symptoms. However, fully vaccinated people should get tested 3-5 days after their exposure, even if they don't have symptoms and wear a mask indoors in public for 14 days following exposure or until their test result is negative.
What to do
Watch for fever (100.4◦F), cough, shortness of breath, or other symptoms of COVID-19.
If possible, stay away from people you live with, especially people who are at higher risk for getting very sick from COVID-19.
Isolation
Isolation is used to separate people infected with COVID-19 from those who are not infected.
People who are in isolation should stay home until it's safe for them to be around others. At home, anyone sick or infected should separate from others, stay in a specific "sick room" or area, and use a separate bathroom (if available).
What to do
Monitor your symptoms. If you have an emergency warning sign (including trouble breathing), seek emergency medical care immediately.
Stay in a separate room from other household members, if possible.
Use a separate bathroom, if possible.
Avoid contact with other members of the household and pets.
Don't share personal household items, like cups, towels, and utensils.
Wear a mask when around other people if able.
Additional information for your household members, intimate partners, and caregivers is available at:
https://www.cdc.gov/coronavirus/2019-ncov/hcp/guidance-prevent-spread.html.
Q: What is Three Rivers Hospital doing to be prepared for COVID-19?
A: We are following U.S. Centers for Disease Control recommendations and working closely with Okanogan County Public Health and the state Department of Health to stay up-to-date on COVID-19 status and changes. Please refer to the Okanogan Public Health COVID-19 Information website for current information about confirmed cases, recovered cases, and deaths in our area.
We urge all infected individuals who aren't sick enough for hospitalization to please self-quarantine at home for 14 days. If you believe you need to be tested or seen by a healthcare provider, please call our hospital (509.689.2517) or clinic (509.689.3749) before you arrive so our healthcare professional can be prepared to help you as quickly as possible.
We're also working with other health care organizations throughout the region to share information and resources.
Our negative pressure room in the Emergency Department is ready to go in case any patients need to be isolated. We have implemented updated policies and procedures to guide the care of patients suspected to be infected with COVID-19 and the safety of our personnel. Employees in all departments are thoroughly cleaning and disinfecting their areas, especially our waiting rooms and other high traffic areas, multiple times a day and as needed.
Q: What is the visitor policy at Three Rivers?
An important key of our patient care philosophy includes engaging families to be part of the healing process. However, due to the outbreak of COVID-19 (coronavirus), we must take extra steps to protect our patients, staff, visitors, and the community. All routine visits are restricted until the transmission of COVID-19 is no longer a threat to our patients, staff and community. Our team is continuously revisiting access to our facilities and the safety of our patients and staff with regard to COVID-19 exposure.
Update April 2022
Because Okanogan County is experiencing lower COVID-19 infection rates, Three Rivers Hospital has unlocked its front main entrance doors, and we're once again permitting visitors on a restricted basis.
Our clinic, Three Rivers Family Medicine, has also unlocked its front doors and asks that patients come in alone for their appointments unless they require a guardian or family member to be present.
We also offer virtual visits between inpatients and their loved ones; the Three Rivers Hospital Foundation has provided us with internet tablets for this purpose.
Our Policy:
For Non COVID-19 Patients
Most patients are allowed one to two designated visitors per day, subject to each patients condition and situation. This will be monitored by the Charge Nurse and will be reviewed with CNO if necessary to consider changes to this rule.
Please note in all cases, visitors will only be allowed if they do not have symptoms of respiratory infection (fever, runny nose, cough, shortness of breath).
Additionally, children under the age of 18 will not be allowed except under extraordinary circumstances.

End-of-Life Patients

End of life patients are limited to two visitors at a time, with a total maximum of six visitors within the end of life time frame.
"End of Life" is defined as imminent death within 24 hours.

Outpatient Services

Outpatient services encourage our patients to come alone to their appointments. However,
Patients who have a scheduled appointment, an outpatient procedure at Three Rivers Hospital, or are visiting the Emergency Department may have one visitor accompany them.
Parents may bring children (if there is no alternative), as long as the child is wearing a well-fitted mask for those aged 2 and up.

Visitors of All Patients in Areas with Substantial and High Transmission and Visitors of Patients with Suspected or Confirmed COVID-19 in Areas with Any Levels of Transmission
No visiting allowed for patients in areas with substantial and high transmission and patients who are COVID-19 positive or suspected in areas with any level of transmission except for:

Patients who are at the end-of-life may have up to two visitors. "End of Life" is defined as imminent death within 24 hours.
Patients who have altered mental status or developmental delays (where caregiver provides safety) may have one visitor.
Minors under the age of 18 may have two visitors that are limited to parents or guardians.
Patients with a medical condition, mental health condition, developmental or cognitive condition, where a family member is key to their care, may have one visitor.
Patients undergoing surgery or procedures may have one visitor who must leave the hospital as soon as possible after the procedure/surgery.
Patients who have a scheduled hospital appointment in the laboratory, radiology or outpatient clinic, the Emergency Department, Urgent Care may have one person with them but are highly encouraged to come alone if possible.
Patients with disabilities may have up to two support persons depending on the circumstance.
Patients with prolonged hospitalizations may have one to two visitors per day, depending on the patient's circumstances.
Patients who need in-person training of a caregiver prior to discharge.
Care meetings with family and/or significant others should occur remotely utilizing video conferencing technology. At the discretion of the department manager, one family member or significant other may be in the patient's room during the care discussions, and will be required to wear appropriate PPE.
Religious leaders may visit COVID-19 patients during normal visiting hours unless the patient's status dictates otherwise, or the presence of the religious leader disrupts patient care. Visits must be arranged through CNO, Assistant CNO or Charge Nurse.
       5. Additional Restrictions for all Allowed Visitors** Please note that all allowed visitors and patient supporters in the hospital will be subject to the following additional restrictions**
Visitors or patient supporters must enter through the Three Rivers Hospital main entrance between 9 a.m. and 6 p.m., and comply with screening requirements to include temperature check.
Visitors or patient supporters cannot have tested positive for COVID-19 within the last 10 days or have been exposed to anyone who tested positive for COVID-19 within the last 14 days.
Visitors or patient supporters will only be allowed if they do not have symptoms of COVID-19: Fever, chills, cough, shortness of breath, new loss of taste of smell, fatigue, muscle or body aches, headache, sore throat, congestion or runny nose, nausea/vomiting, or diarrhea.
Visitors or patient supporters must follow masking requirements at all times while in the facility.
Visitor or patient supporters are encouraged to minimize their time in the facility and should not come and go throughout the day. They must remain in the patient's room the entire time of the visit. Once the visitor leaves the patient room, except for restroom and meal requirements, must leave the facility.
Visitors or patient supporters who fail to adhere to the masking requirements will be asked to leave our facility.
If you have questions about our visitor policy, or other non-emergent questions, please feel free to reach out to us via Facebook or email our Business Development Coordinator at media@trhospital.net.
Q: How is Three Rivers Hospital protecting patients and visitors?
A: Every employee, provider, and visitor must be screened for COVID-like symptoms before they're allowed to enter the building. As of December 22, 2021, the hospital's front main entrance is unlocked and we're allowing one visitor per patient on a limited basis. Our clinic has elected to keep its doors locked for now and asks that only parents and guardians attend clinic visits with patients, when applicable.
If you arrive at the hospital after regular business hours, please use the exterior courtesy phone in the area between the sets of double doors to call the nurse's station and let them know you're here. Someone will come out to help you.
Hospital employees who have contact with patients throughout the day will be screened for symptoms twice during their shifts.
In addition, all staff, providers, patients, and visitors are required to wear masks throughout the hospital and clinic.
We do accept lower acuity COVID-19 patients on our Acute Care floor. They are isolated away from other inpatients and are not located near outpatient services.
Q: What can I expect if I'm having surgery at Three Rivers?
Three Rivers Hospital and Three Rivers Family Medicine have implemented internal policies to assure patients, staff, and surgeons are protected from COVID-19.
All surgery patients will be tested for COVID-19 before their scheduled procedure date, per current recommendations.
If a patient tests negative, they will be asked to stay home and self-isolate until their surgery day in order to avoid risking exposure.
If they test positive, their procedure will be postponed as long as it's safe to do so.
Depending on our inpatient volumes during COVID-19 surges, we may reserve the right to postpone or cancel elective procedures. Our leadership team monitors the patient census on a continual basis.
For more pre-surgery information, click here.
Q: I lost my vaccine card. How can I get a new one?
A: If you lost your CDC COVID-19 vaccination card showing your vaccine type and shot dates, you can obtain a certified Washington State Department of Health COVID-19 vaccine certificate online.
Register with MyIR Mobile, a secure site for residents to access their state immunization records. After you are officially registered on that website, you can access your vaccine certificate as well as other Washington state immunization records for yourself and your family.
Q: How can I help Three Rivers Hospital?
We very much appreciate everyone who has reached out asking how they can help Three Rivers Hospital during this time! Here are a few ways you can help:
We are accepting donations of handmade masks and gowns, which could be used by employees, patients, and visitors. Please drop them off at our Patient Registration desk at the hospital's front entrance at 507 Hospital Way, Brewster.
Keep your appointments at our clinic, Three Rivers Family Medicine. Some visits are conducted using telemedicine, but in-person appointments are available as needed. More information about how the clinic is prepared for COVID-19 can be found on their website linked above.
Send a monetary donation to the Three Rivers Hospital Foundation, which helps pay for patient care equipment and supply needs. So far, they have purchased two iPad Minis with stands, allowing inpatients to communicate with their loved ones, and four new Ford brand PAPRs with hoods for health care workers to use when treating COVID-19 patients.

Donate online securely, via PayPal
PO Box 455, Brewster WA 98812
Would you like to help by donating gowns or masks for the hospital?