The DAISY Award for Extraordinary Nurses
The DAISY Award for Extraordinary Nurses is a nationally recognized program that celebrates the wonderful nurses we encounter during some of the most worrisome — or joyful —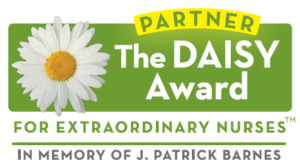 moments in our lives.  Three Rivers Hospital wanted to bring a more meaningful voice to the feedback we hear from patients and their loved ones, so we've partnered with the DAISY Foundation to offer the annual DAISY Award.
The DAISY Foundation shares our commitment to honor nurses for the work they do in helping provide the ideal patient experience at Three Rivers Hospital.
Questions? Email us at DAISY@trhospital.net!
Nominate a Nurse for the DAISY Award
To nominate a Registered Nurse (RN) or a Licensed Nurse Practitioner (LPN) directly through our website, please use the online fillable form on the left. You may also click the following link to download and complete a PDF form to nominate a nurse for the DAISY Award: DAISY Nomination Form
Nomination forms in English and Spanish are also available at Three Rivers Hospital and our clinic, Three Rivers Family Medicine.
Please note:
Only RNs and LPNs may be nominated for a DAISY Award.
Patients, visitors, physicians, and other hospital staff may nominate a nurse.
The hospital's employee recognition committee reviews all nominations.
A DAISY Honoree is selected from among the nominees using an established set of criteria, and the nominating individual or family will be invited to a celebration for that nurse.
2021 DAISY Award Nominees
2020 DAISY Award Nominees
2017-2018 DAISY Award Honoree
Please join Three Rivers Hospital staff and providers in congratulating our first DAISY Award winner, Jesse Hodges!
Years at Three Rivers Hospital: 2
Department: Acute Care
What is your favorite part about being a nurse?  "Bonding with patients is the most gratifying part of my job. You learn something new about people every day you work. Involving the situations where you are able to provide a level of support to a patient is the most rewarding part of nursing. Whether that be listening, educating, being present, giving tough love. The list goes on and on. If you can find your niche to serve in a person's healing process you have done your job. That's what sends me home feeling satisfied."